Welcome to the homepage of the István Guesthouse!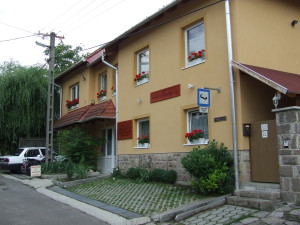 The István Guesthouse*** is situated in a silent and beautiful environment only 10 minutes far from the historical centre of Eger.
Our guesthouse has five rooms with two beds, TV and refrigerator. We have a well-equipped kitchen (refrigerator, microwave oven) on every floor in the house. You can roast and cook in the garden in mild summer evenings.
The guesthouse has a closed car park.
You can go on foot to Eger bath (which is famous for its thermal water) in five minutes. The biggest swimming pool of Heves County (called Bitskey Aladár Swimming Pool) is also situated 5 minutes far from our house. In the evenings we can visit the best wine cellars of Eger and we can taste the most famous wines.
Prices
Adults: 4500–6000 HUF/person/night (+TAX: 450 HUF)
Children (3–14 years): 3000 HUF/person/night
Children (under 3 years): 1500 Ft/person/night
Contact
István Vendégház
Address: 3300 Eger, Agyagos u. 12. HUNGARY
Phone: (+36 36) 411 505
Mobile: (+36 20) 539 2141, (+36 20) 399 2551
Fax: (+36 36) 411 505
E-mail: istvanvendeghaz@gmail.com
Web: www.istvanvendeghaz.hu
Distance between some famous place in Eger and our house (on foot)
Castle of Eger: 5 minutes
Bath and swimming pool: 5 minutes
Main railway station: 15–20 minutes
'Castle' Railway Station: 6–8 minutes
Dobó tér (Dobó Square): 15 minutes
Eger's Dome: 15 minutes
Minaret: 15 minutes
Valley of the Beautiful Women (wine-cellars): 20–25 minutes
Booking